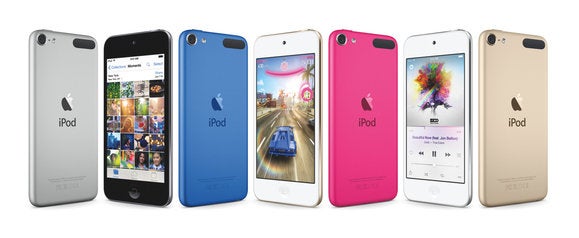 Clearly the place to start today is the new range of iPods, which were released yesterday. An advantage in reporting on them today is that the tech sites have had a chance to play with them. The biggest update is to the iPod Touch, which sees a big processor jump and also an increase in its maximum size to a 128GB model. As you might expect now the device sports the
same A8 chip as the iPhone 6,
it is setting some very good results on benchmark test.
According to TechCrunch the processor appears to be running at 1.10GHz, which is slightly slower than an iPhone 6 at 1.39GHz. They also believe from their results it is hosting 1GB of RAM.
Another interesting addition to the Touch was the addition of a M co-processor for motion sensing, also like you would find on an iPhone. In addition the Touch now sports a 8 megapixel camera, making it a handy point and shoot.
As the the iPod Touch settles down with its new A8 chip, the iPhone and iPad are getting ready to take on the
new A9 chip.
We know this because Macrumors is reporting that both Samsung and TSMC have begun mass production of the new A9 chip. Whilst timeline wise this makes sense, the story does come from Digitimes originally and they have been a bit patch in the past.
One quick news piece for our friends over the ditch in New Zealand, you will be able to buy your very own Apple Watches from 31 July!
Could we one day see
Solar cells as part of an iPhone screen?
No I havenít lost my mind, well ok maybe that can be argued, but the question stems from an Apple patent application for just that. That of course could be a great way to add some power to the battery whilst you are out and about. Now of course just because there is a patent doesnít mean there will be a product but it is a pretty cool concept and would be a great addition to the Apple range if it ever did see the light of day.
Back when Apple launched its own sim last year on the iPad, many wondered and in fact some hoped Apple would one day bring it to the iPhone. Whilst that hasnít happened yet, 9to5Mac report that Apple is talking to the cell (mobile) providers about adding the so called
e-sim to the iPhone.
Joining Apple at the table is said to be Samsung.
So an interesting week in Apple news, enjoy the weekend and see you Monday.
Cheers
Shaun