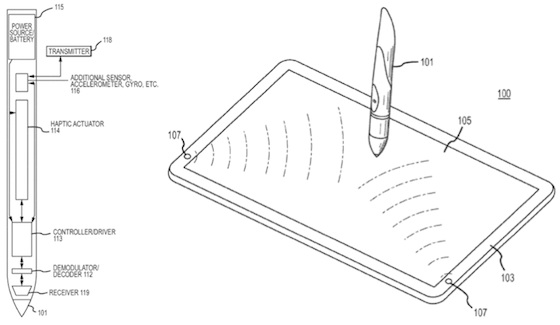 A possible design for a haptic stylus from an Apple patent application in 2010 via Macrumors
The latest rumour regarding the so called iPad Pro is that it will
come with a Stylus.
9to5Mac report that the prediction is made by KGI analyst Ming-Chi Kuo. Whilst normally Kuo relies on reports from supply chain contacts, this report doesn't appear to have been based on those. Instead it seems based on stylus patent filings over the years by Apple. Might need some other supporting evidence before I accept this one, but I know MissionMan will be loving the thought of a stylus!
It appears that the long running saga of the Steve Jobs biopic may be moving into the final phase with the beginning of
filming at Jobs childhood home
in Los Altos in California.
Apple is going to take over full technical support of
Beats products via AppleCare.
9to5Mac report that currently the support is split between Apple and an outsource company Sitel. The new arrangement may be in place as soon as the end of March.
The development of iOS 8.1.3 continues with Apple retail staff receiving a
second beta.
Macrumors had felt that previously that with a beta being rolled out to retial staff that it may be close to release. The extra beta seems to indicate that its public release may be a little way off with Apple continuing to work on bugs.
After the flare up in talk that Apple might be looking at other chip options, Intel CEO Brian Krzanich has got on the front foot telling CNBC that the relationship with
Apple is "Strong".
A rather light start to the week today for news, so enjoy the start of the working week MacTalkers and see you all tomorrow.
Cheers
Shaun