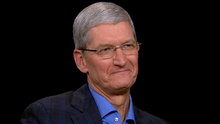 We bought you part one of the Charlie Rose interview with Tim Cook on Monday. Today we bring you part two, the final part of the interview. In it Cook discusses privacy, U2 and his thoughts on what comes after the Internet.
iOS 8 is due for release sometime later today. As Macworld in the US note though, we all need to be very careful to
not upgrade to iCloud Drive just yet.
iCloud drive is designed to work between iOS 8 and Yosemite, so until Yosemite lands upgrading will stop your iOS devices being able to sync with Mavericks. Thankfully Apple does have a handy do you want to upgrade to iCloud Drive question as part of the upgrade. For now just click "Not Now" and do the upgrade when we get our hands on Yosemite.
After the pre-order rush part two of the new iPhone release will occur Friday with the units going on sale in store. As we saw with the pre-orders, demand is likely to be high with lots of people no doubt trying to grab one on launch day. 9to5Mac have managed to get their hands on the
internal Apple gameplan
to help Apple Stores cope and make the experience as painless as possible for the consumers.
A change for this year is the use of digital pass placeholders, which will make use of Passbook. There will still be physical placeholder cards for people without access to e-mail or SMS on the day. The lines will be split prior to opening into pick up pre-orders and walk up customers.
Seems like a solid plan and we look forward to your reports on Friday on how you found the experience.
One place where people won't be lining up is China, where Bloomberg reports that a top executive at China Mobile said they don't yet know when they are going to start selling the iPhone 6. Other reports are suggesting the new phones may not go on sale this year in China.
Are you going to be switching from Android as part of the iPhone 6 frenzy? Well Apple has a page to help you
move your content over to your new iPhone.
The guide covers mail, contacts and calendars, photos and video, music, books and PDF's, documents and Apps. Hopefully that helps you and of course welcome to the world of iPhone, you won't regret it!
Not such happy news however is the report picked up by 9to5Mac via the Wall Street Journal that
Chinese police has detained a Foxconn employee
over leaked iPhone 6 shells. Foxconn has commented that it "expects employees to follow its internal code of conduct."
Apple had a victory in court Tuesday, with a
Federal appeals court throwing out a jury order
requiring Apple to pay VirnetX Holding Corp US$368.2 million in damages for patent infringement. The case involved four patents for technology for providing security over the Internet. Re/code reports that the appeals court found problems with the jury instructions on how to calculate damages. The case will now return to the District Court in Tyler, Texas for further proceedings.
So that is a wrap for today, make sure you set some time aside to watch the Tim Cook interview and see you all tomorrow.
Cheers
Shaun